Third IUFRO Latin American Congress (IUFROLAT), 12-15 June 2013, San José, Costa Rica
"Forests, Competitiveness and Sustainable Landscapes"
The International Union of Forest Research Organizations (IUFRO) and the Agriculture Research and Higher Education Center (CATIE) will hold the Third IUFRO Latin American Congress (IUFROLAT) in San José, Costa Rica from 12 to 15 June 2013.
For four days, the Congress will provide a platform for researchers and academics including their colleagues from other parts of the world, the private sector, trade unions, journalists and policy makers to exchange information and experiences on critical issues affecting trees, forest ecosystems and landscapes, and their contribution to development in Latin America.
N.B. IUFRO Teakwood Working Party D5.06.02 is holding a special Teak Session during this Congress. Six percent of the planted teak forests lie in tropical America and the area under teak plantation is expanding to produce quality timber in shorter rotations of 20-30 years. Prof. Mario Tomazello Filho (Dy. Coordinator D5.06.02), University of São Paulo, Brazil will be Chairing the Session. Email: mtomazel@esalq.usp.br
The overall goal of the IUFROLAT Congress is to demonstrate how forest science is impacting on livelihoods, environment and sustainable development in the Latin America and Caribbean region. With the slogan "Forests, Competitiveness and Sustainable Landscapes", the Congress will highlight research that offers information on management and policy relevant to policy makers and practitioners at local, national and regional levels. The theme of the event is related with Forest and Ecosystem Services, Forest Sector Competitiveness and Governance Management.
For details, please log on to the website http://web.catie.ac.cr/iufrolat/IufroLat_ing.htm
Contact: iufrolat@catie.ac.cr
TEAKNET Bulletin
TEAKNET brings out a quarterly electronic newsletter (TEAKNET Bulletin) through its website. It is intended for circulation among the members of TEAKNET and other stakeholders around the globe. The Bulletin welcomes short articles, research results of non-technical nature etc. from researchers, teak growers and traders for inclusion as news items. To subscribe the online TEAKNET Newsletter, enter your email below.
TEAKNET/IUFRO Partner Event in the APFC Meeting
TEAKNET/ IUFRO Partner Event in the
27th Session of Asia Pacific Forestry Commission (APFC)
25 October 2017, Colombo, Sri Lanka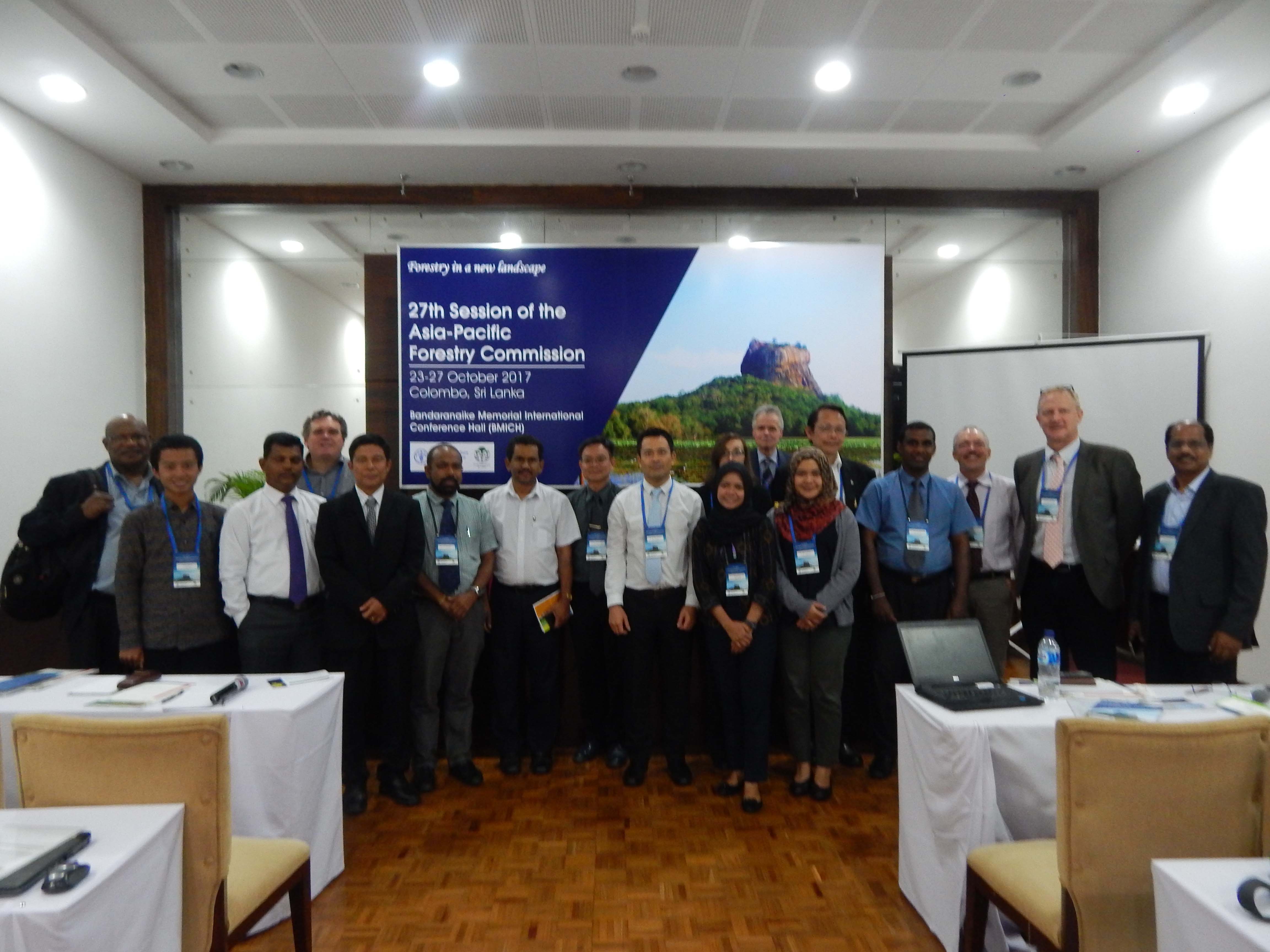 TEAKNET and IUFRO Teakwood Working Party (Div 5.06.02) successfully conducted the Partner Event on "Teak in Productive Landscapes: An Introduction to Global Efforts for the Conservation and Sustainable Management of Teak Resources" during the 27th APFC meeting on 25 October 2017.
TEAKNET in association with IUFRO set up an Exhibition booth at the APFC meeting venue at Bandaranaike Memorial International Conference Hall (BMICH) from 23 to 27 October during the days of Commission meeting for greater visibility, interaction and communication with forestry community at large.
TEAKNET Directory Online Form
We are updating our TEAKNET Directory of Traders, Planters, Government Officials and Researchers in order to effectively link all the stakeholders across the globe and share information and events related to teak.