Rediscovering wood: The key to a sustainable future, The international conference and exhibition on the art and joy of wood, Bangalore, India, 19-22 October 2011
In collaboration with the Government of India, the Food and Agricultural Organization of the United Nations (FAO) will be holding an international conference about wood products and sustainable development. This message is to announce the first call for papers and inform people that registration for the conference is now open.

The overall aim of the conference will be to examine how the production and use of wood products can contribute to sustainable development and how greater demands for sustainability might present new opportunities for development of the wood products sector. Within this general direction, three themes for the conference are proposed:

* Emerging trends in economies and lifestyles: what are the main trends affecting wood use and how can these be utilised to strengthen the forest products sector?

* Stories portraying the winds of change: case studies showing how some wood producers and users have already developed strategies or innovated to build successful enterprises based on changing consumer demands and needs.

* Wooden paths to a sustainable future: how can the linkages between wood use and sustainable development be strengthened and used to promote more and higher-value wood use?

Given that the economic and environmental dimensions of wood product use have been discussed many times before (e.g. at technical and marketing conferences, green building events, etc.), an aim of this conference is to focus, in particular, on the socio-economic, aesthetic and cultural dimensions of wood use (what the organizers define as "the art and joy of wood"). Papers on other aspects of wood product development will also be considered, so long as they fit under one of the themes described above (focus will be on solid wood products rather than paper or non-wood forest products).

The conference will last for three days with an optional field trip on the fourth day. It will be held in the J N Tata Auditorium complex at the Indian Institute of Science in Bangalore and the expected level of participation is about 250 people. There will also be a commercial exhibition and a handicraft market where 70 exhibitors are expected (open to the public). Diverse social and cultural programmes are also planned (artisans exhibitions, photo and non-technical poster competition, "music from wood" concert, field trip, etc.) to give participants a practical, "hands on" feeling for the themes of the conference.

More background about the aims and objectives of the conference is presented in the conference brochure (available at: http://www.artjoywood.org/documents/AJWConferenceBooklet.pdf?attredirects=0&d=1) and details of the programme and procedures for registration and submission of papers are given on the conference website (www.artjoywood.org). The organizers hope that this event will be innovative - looking at aspects of wood product development and utilisation that may not have been covered in great detail before - and the participants will come away with some new perspectives on developments in the sector.

Contact Persons:
Dr. Adrian Whiteman, Forestry Department, FAO, Rome (Adrian.whiteman@fao.org)
Dr. Illias Animon, Forestry Department, FAO, Rome (Illias.Animon@fao.org)
TEAKNET Bulletin
TEAKNET brings out a quarterly electronic newsletter (TEAKNET Bulletin) through its website. It is intended for circulation among the members of TEAKNET and other stakeholders around the globe. The Bulletin welcomes short articles, research results of non-technical nature etc. from researchers, teak growers and traders for inclusion as news items. To subscribe the online TEAKNET Newsletter, enter your email below.
TEAKNET/IUFRO Partner Event in the APFC Meeting
TEAKNET/ IUFRO Partner Event in the
27th Session of Asia Pacific Forestry Commission (APFC)
25 October 2017, Colombo, Sri Lanka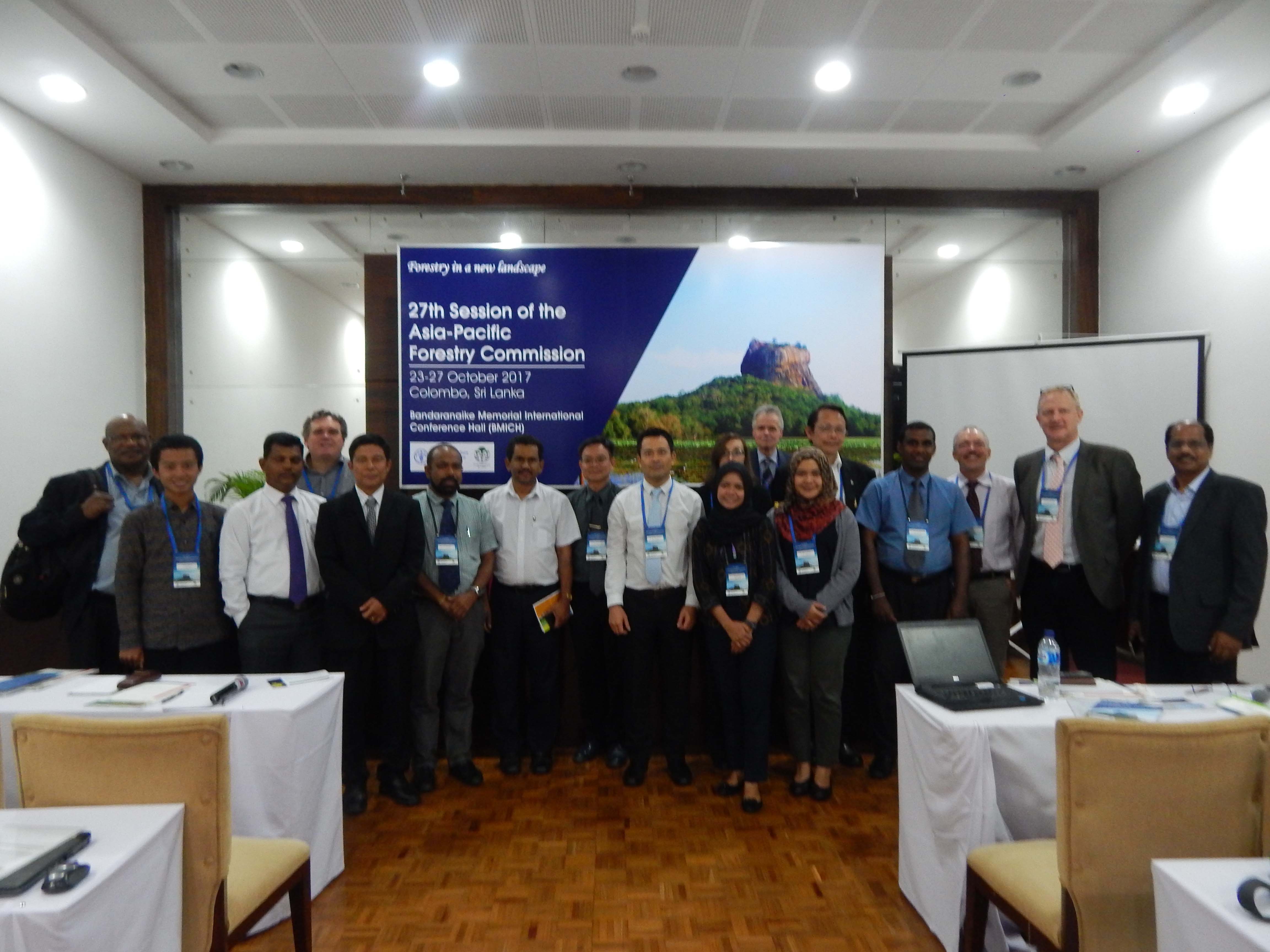 TEAKNET and IUFRO Teakwood Working Party (Div 5.06.02) successfully conducted the Partner Event on "Teak in Productive Landscapes: An Introduction to Global Efforts for the Conservation and Sustainable Management of Teak Resources" during the 27th APFC meeting on 25 October 2017.
TEAKNET in association with IUFRO set up an Exhibition booth at the APFC meeting venue at Bandaranaike Memorial International Conference Hall (BMICH) from 23 to 27 October during the days of Commission meeting for greater visibility, interaction and communication with forestry community at large.
TEAKNET Directory Online Form
We are updating our TEAKNET Directory of Traders, Planters, Government Officials and Researchers in order to effectively link all the stakeholders across the globe and share information and events related to teak.