Regional workshop on "Processing and Marketing of Teak Wood Products of Planted Forests", KFRI, Peechi, India, 25- 28 Sept 2007.
Teak (Tectona grandis L.f) is being grown in plantations in more than 36 tropical countries across the globe although its natural occurrence is limited to India, Laos Myanmar and Thailand. Of the estimated 187.1 million hectares of global forest plantations in 2000, about 5.7 million hectares (3%) were teak, representing about 75% of the world's high-quality tropical hardwood plantations, the major producers being India, Indonesia, Myanmar and Thailand.
It is little wonder that teak excites more interest among the general public than any other tropical hardwood for its versatile wood with sterling properties.The rapid expansion of teak plantations, however, poses a risk of undermining its reputation in global market place because of wide variations in wood quality with the net effect of reducing the prices and therefore the financial viability of teak planting programmes. To avoid this, teak growers at the community and industrial levels, must ensure that the wood they produce is of the highest possible quality, which will mean choosing the right sites carefully, using good genetic stock, employing optimal rotation cycles and appropriate silvicultural techniques.
»
TEAKNET Bulletin
TEAKNET brings out a quarterly electronic newsletter (TEAKNET Bulletin) through its website. It is intended for circulation among the members of TEAKNET and other stakeholders around the globe. The Bulletin welcomes short articles, research results of non-technical nature etc. from researchers, teak growers and traders for inclusion as news items. To subscribe the online TEAKNET Newsletter, enter your email below.
TEAKNET/IUFRO Partner Event in the APFC Meeting
TEAKNET/ IUFRO Partner Event in the
27th Session of Asia Pacific Forestry Commission (APFC)
25 October 2017, Colombo, Sri Lanka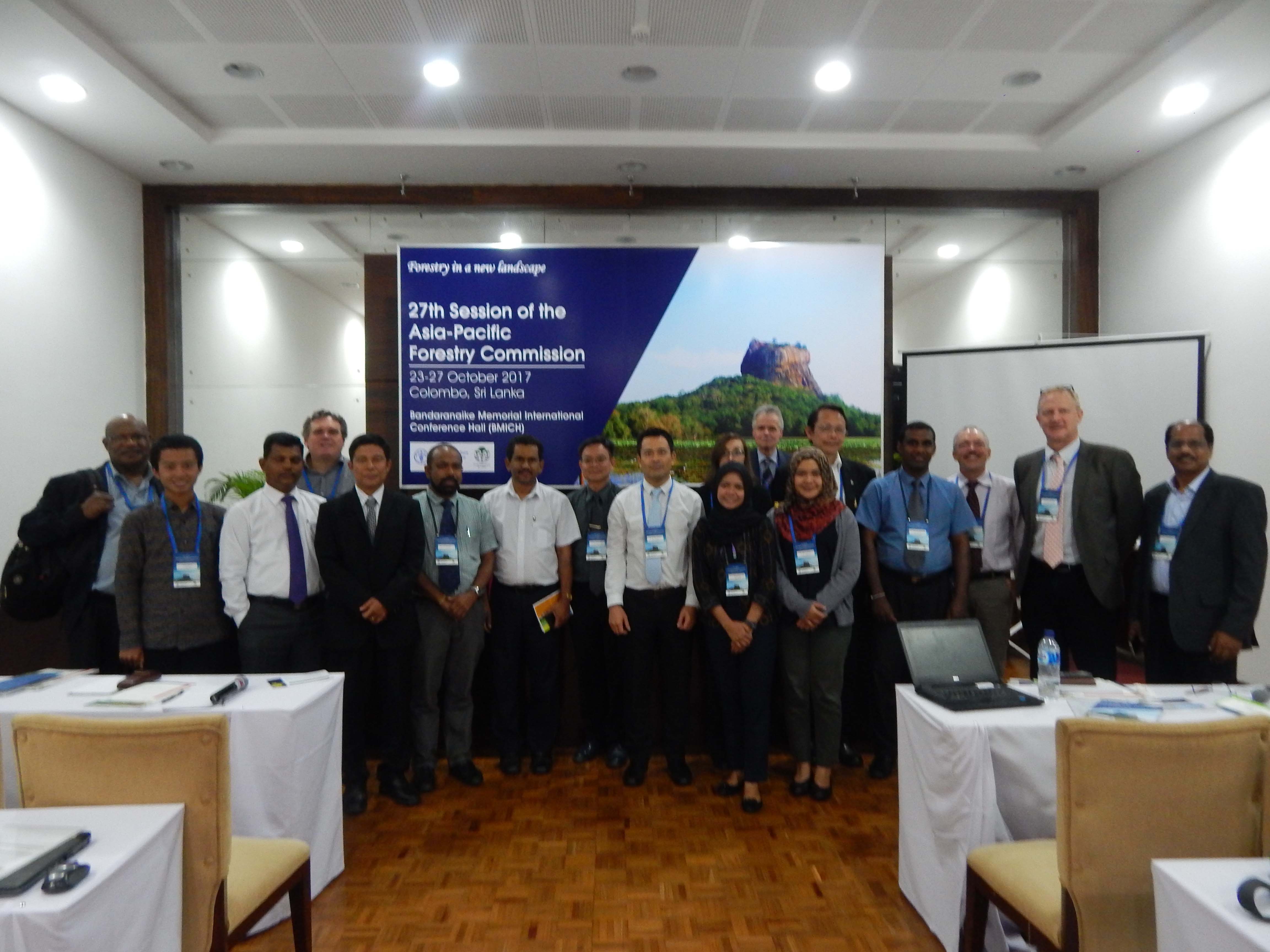 TEAKNET and IUFRO Teakwood Working Party (Div 5.06.02) successfully conducted the Partner Event on "Teak in Productive Landscapes: An Introduction to Global Efforts for the Conservation and Sustainable Management of Teak Resources" during the 27th APFC meeting on 25 October 2017.
TEAKNET in association with IUFRO set up an Exhibition booth at the APFC meeting venue at Bandaranaike Memorial International Conference Hall (BMICH) from 23 to 27 October during the days of Commission meeting for greater visibility, interaction and communication with forestry community at large.
TEAKNET Directory Online Form
We are updating our TEAKNET Directory of Traders, Planters, Government Officials and Researchers in order to effectively link all the stakeholders across the globe and share information and events related to teak.