9th PRWAC 2017 (9th Pacific Regional Wood Anatomy Conference), 26-29 September, 2017, Bali, Indonesia
The Pacific Regional Group of International Association of Wood Anatomist (IAWA), International Academy of Wood Science(IAWS), and the Indonesian Wood Research Society (IWoRS), invite researchers from all over the world to join in the Joint Meetings for PRWAC 2017 (The 9th Pacific Regional Wood Anatomy Conference) and IAWS Meeting 2017 which are being organized at the same time with The 9th International Symposium of Indonesian Wood Research Society to be held at Harris Hotel and Residences, Kuta, Denpasar – Bali, Indonesia, September 26 – 29, 2017.
These important joint meetings will be hosted by Universitas Gadjah Mada in the famous island of Bali – Indonesia. The venue of the conference will be at Kuta beach and also close to many other places of interest in Bali. The conference is going to provide platform for researchers to present recent results, for discussions and the exchange of information in wide scopes of wood science and technology.
Abstract/paper submission starts from Dec 2016 and the deadline for Abstracts submission is June 2017. The early bird registration begins in March 2017.
For details please visit the website http://woodconference.fkt.ugm.ac.id/9th-prwac/ or conference secretariat office 9thPRWC@gmail.com
TEAKNET Bulletin
TEAKNET brings out a quarterly electronic newsletter (TEAKNET Bulletin) through its website. It is intended for circulation among the members of TEAKNET and other stakeholders around the globe. The Bulletin welcomes short articles, research results of non-technical nature etc. from researchers, teak growers and traders for inclusion as news items. To subscribe the online TEAKNET Newsletter, enter your email below.
TEAKNET/IUFRO Partner Event in the APFC Meeting
TEAKNET/ IUFRO Partner Event in the
27th Session of Asia Pacific Forestry Commission (APFC)
25 October 2017, Colombo, Sri Lanka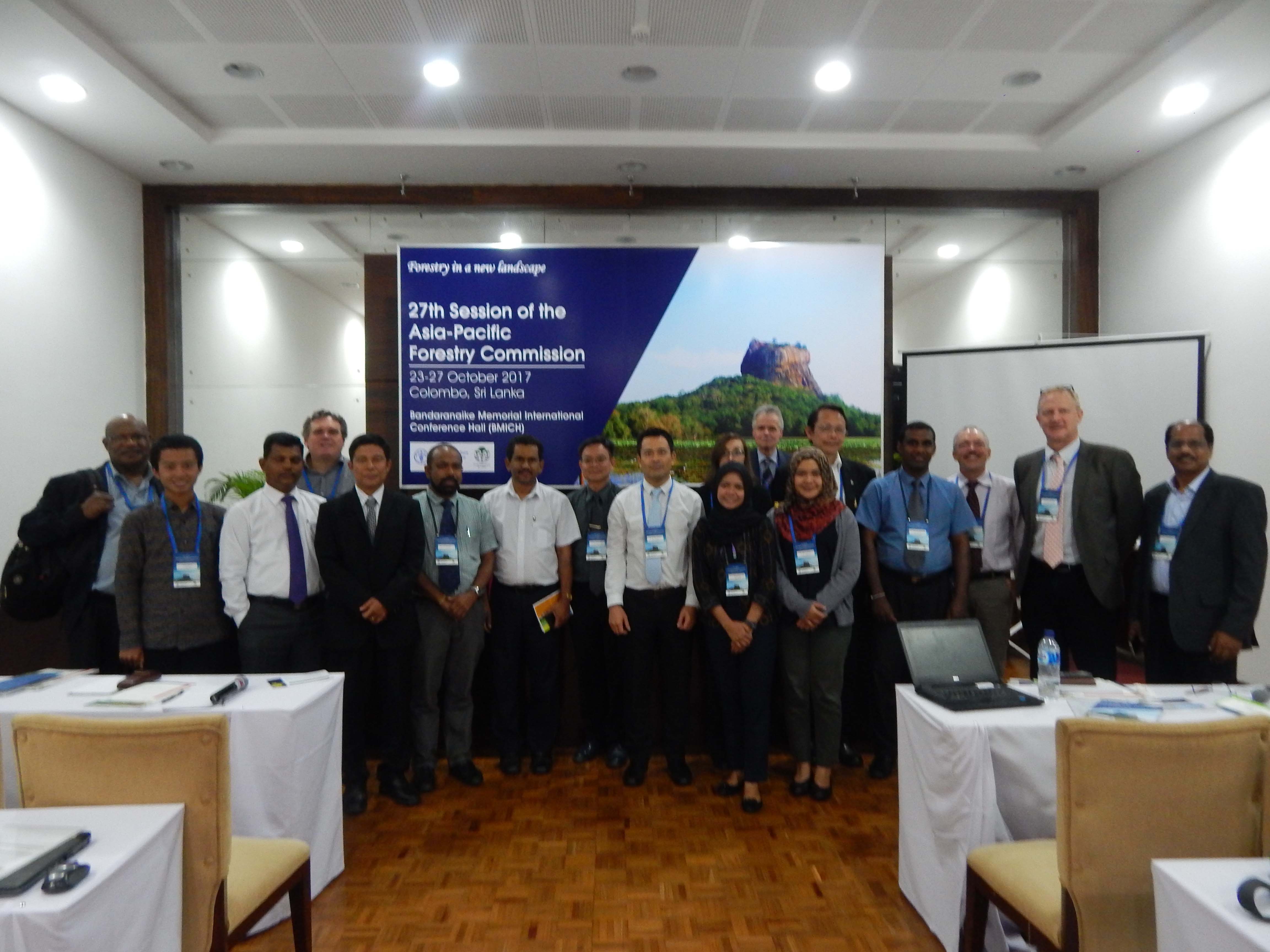 TEAKNET and IUFRO Teakwood Working Party (Div 5.06.02) successfully conducted the Partner Event on "Teak in Productive Landscapes: An Introduction to Global Efforts for the Conservation and Sustainable Management of Teak Resources" during the 27th APFC meeting on 25 October 2017.
TEAKNET in association with IUFRO set up an Exhibition booth at the APFC meeting venue at Bandaranaike Memorial International Conference Hall (BMICH) from 23 to 27 October during the days of Commission meeting for greater visibility, interaction and communication with forestry community at large.
TEAKNET Directory Online Form
We are updating our TEAKNET Directory of Traders, Planters, Government Officials and Researchers in order to effectively link all the stakeholders across the globe and share information and events related to teak.