ITTO - Biennial Review and Assessment of the World Timber Situation 2015-2016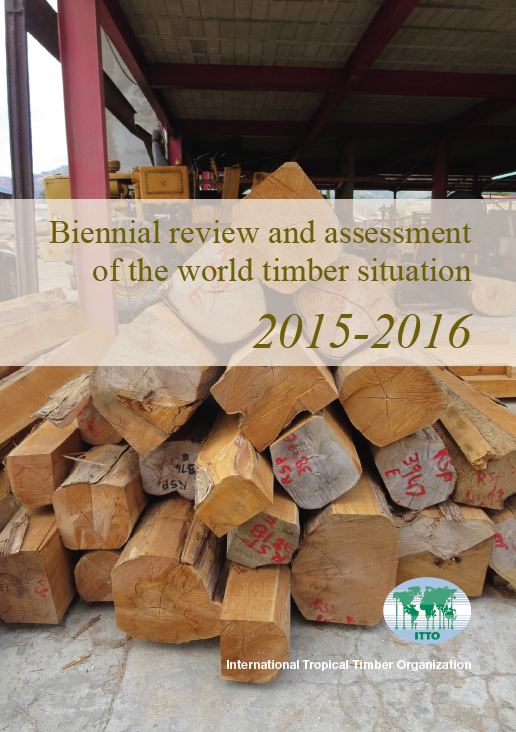 ITTO has released the Biennial Review and Assessment of the World Timber Situation 2015–2016, giving insights into developments and trends in the global timber sector and international timber markets. The Review reports on production, trade and prices for primary wood products (industrial roundwood, sawnwood, veneer and plywood); trade and prices for secondary processed wood products (SPWPs); major traded tropical wood species; and directions of trade for primary tropical wood products. The latest edition of the Review features a comprehensive case study on the plywood industry in China, which has become one of the world's biggest plywood producers.
The Review's key findings on primary wood products include the following:
· There was a slowdown in global trade in tropical wood products in 2015 and 2016 in response to supply constraints in major producer countries, particularly Myanmar and Malaysia, and slowing demand in China.
· Imports of tropical hardwood logs by all ITTO members totalled 16.9 million m3 in 2015, down by 13% from a peak in 2014, when demand accelerated in China. Log import volumes continued to decline (by 3%) in 2016, to 16.3 million m3, with most of the drop attributed to a sharp decline in imports by India and Viet Nam from Myanmar, which imposed severe log export restrictions in 2014.
· China continues to dominate tropical log imports, accounting for 59% of total ITTO imports in 2015 and 63% in 2016.
· The major log trade flows in 2015 were from Papua New Guinea and the Solomon Islands to China and from Malaysia to India.
· Many significant producer countries in Asia and the Pacific have some form of log export ban in place—notably Cambodia, Indonesia, Lao PDR, the Philippines and Thailand.
· ITTO producer countries exported 12.3 million m3 of tropical logs in 2015, which was three-quarters of global exports. Shipments from Papua New Guinea, the largest exporter, totalled 3.6 million m3 in 2015, mostly (87%) to China.
· The Asian region continues to dominate the tropical sawnwood trade, with China and, to a lesser extent, Thailand and Viet Nam the major importers. Cameroon, Malaysia and Thailand are the major exporters.
· ITTO producers exported 9.5 million m3 of tropical sawnwood in 2015, accounting for 88% of global exports of tropical sawnwood. China's imports grew quickly, from 5.1 million m3 in 2015 to 6.6 million m3 in 2016, as more producer countries imposed restrictions on log exports and as manufacturing costs rose in China.
· Thailand remained the top-ranking exporter of tropical sawnwood (mostly plantation rubberwood) in 2015, 99% of which went to China.
· The global trade of tropical plywood has trended downwards in the last decade, with imports declining to 5.1 million m3 in 2015. Although Japan continues to dominate imports, accounting for 30% of total ITTO imports in 2015, import volumes have plunged in recent years in response to substitution by Japanese plywood manufactured from domestic species, upward price pressures on imported tropical plywood, exchange-rate fluctuations, and weaker domestic demand.
· Indonesia and Malaysia continue to dominate exports of tropical plywood, although Malaysia's exports dropped by 19% in 2015, to 2.5 million m3, in response to the limited availability of raw materials and depressed demand and prices in Japan.
TEAKNET Bulletin
TEAKNET brings out a quarterly electronic newsletter for our readers. To subscribe the Newsletter, enter your email below.
TEAKNET WEBINARS
TEAKNET WEBINAR SERIES
WEBINAR Series 1 by Dr. CTS Nair on the topic "The Future of Production and Trade of Teak: Emerging Scenarios in a Changing World".
Click here to watch the full video
WEBINAR Series 2 by Sinan Hagenah on the topic "Population genetic considerations for selection of plant reproductive material of teak (Tectona grandis)".
ITTO Project on Sustainable Teak Management for Mekong subregion
Teak Mekong Newsletter
Online bi-monthly

The ITTO Teak project "Enhancing Conservation and Sustainable Management of Teak Forests and Legal and Sustainable Wood Supply Chains in the Greater Mekong Sub-region" commenced its activity since March 2019. We are happy to bring out an online bi-monthly newsletter highlighting the implementation of the project activities and teak-based research and development information including teak supply and consumption for our esteemed readers.
TEAKNET Directory Online Form
We are updating our TEAKNET Directory of Traders, Planters, Government Officials and Researchers in order to effectively link all the stakeholders across the globe and share information and events related to teak.