About US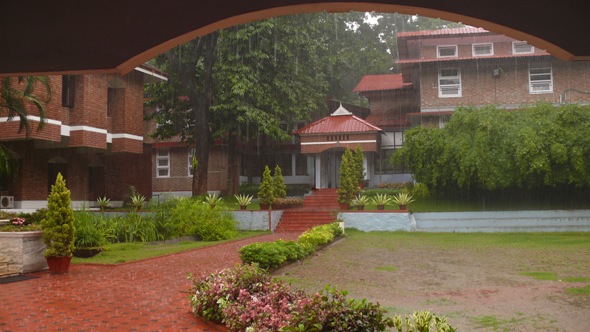 Kerala Forest Research Institute, TEAKNET host institution at Peechi, Kerala, India
What is TEAKNET
TEAKNET is an international network of institutions and individuals interested in teak. Teaknet addresses the interests of all the categories of stakeholders related to teak, whether they are growers, traders, researchers or other groups with a profound interest or concerned with teak. From time to time, the organization formulates action plans focusing on the short term and long term needs of the global teak sector. Success of the network is critically dependent on wider participation, by all those concerned with conservation, management and utilization of teak.
Objectives of TEAKNET
To link the national, regional and international institutions / organisations working on teak for sharing information and experience
To serve as a dialogue platform among the tree growers, traders and researchers on problems in teak sector to find solutions
To facilitate transfer of knowledge and dissemination of information useful to tree growers, local traders, exporters and importers on all aspects of teak including market information and price trends through its website www.teaknet.org
To promote studies on issues that hinder development of the teak sector which include quality assessment of short rotation teak, unification of log grading rules and tracing the geographical origin of teak logs to prevent illegal logging and ensure sustainability
To develop online databases and decision support tools beneficial to stakeholders of teak sector
To facilitate the exchange of genetic materials (superior seed sources/improved planting materials) to enhance productivity subject to the country regulations
To publish periodical reports/bulletins and organize meetings for the development of teak sector including matters related to development of timber certification and carbon credits
TEAKNET Secretariat
TEAKNET is basically manned by an International Steering Committee and its headquarters is currently located at the Kerala Forest Research Institute (KFRI), Peechi, India which acts as the host institution for the functioning of Teaknet. The Secretariat of Teaknet was established in KFRI with the support of FAO Regional office for Asia-Pacific, Bangkok.
TEAKNET Bulletin
TEAKNET brings out a quarterly electronic newsletter for our readers. To subscribe the Newsletter, enter your email below.
TEAKNET WEBINARS
TEAKNET WEBINAR SERIES
WEBINAR Series 1 by Dr. CTS Nair on the topic "The Future of Production and Trade of Teak: Emerging Scenarios in a Changing World".
Click here to watch the full video
WEBINAR Series 2 by Sinan Hagenah on the topic "Population genetic considerations for selection of plant reproductive material of teak (Tectona grandis)".
ITTO Project on Sustainable Teak Management for Mekong subregion
Teak Mekong Newsletter
Online bi-monthly

The ITTO Teak project "Enhancing Conservation and Sustainable Management of Teak Forests and Legal and Sustainable Wood Supply Chains in the Greater Mekong Sub-region" commenced its activity since March 2019. We are happy to bring out an online bi-monthly newsletter highlighting the implementation of the project activities and teak-based research and development information including teak supply and consumption for our esteemed readers.
TEAKNET Directory Online Form
We are updating our TEAKNET Directory of Traders, Planters, Government Officials and Researchers in order to effectively link all the stakeholders across the globe and share information and events related to teak.