XXIV IUFRO World Congress, 5-11 October 2014, Salt Lake City, Utah, United States
Forests and trees provide a wide range of environmental, economic, social and cultural benefits to people in rural communities and urban centers worldwide. Their conservation and sustainable management are closely linked to globally important societal challenges related to environmental protection, sustainable economic development, food security, human health, water and energy resource provision, and climate change. The best available scientific knowledge is needed to effectively address these issues at multiple scales (locally, regionally and globally) and provide a strong basis for forest and forest landscape management practices and policy decisions. The scientific program for the IUFRO 2014 World Congress will bring together scientists of all ages, from throughout the world, across the full range of forest-related disciplines, who are engaged in research, education and application of science-based knowledge to address these challenges and meet the changing needs of our increasingly globalized society. The program will be organized along the following seven themes:
• Forests for People
• Forest Biodiversity and Ecosystem Services
• Forests and Climate Change
• Forest and Water Interactions
• Forest Biomass and Bioenergy
• Forests and Forest Products for a Greener Future
• Forest Health in a Changing World
For details, please visit Congress homepage: http://www.iufro2014.com/
Twitter: https://twitter.com/iufro2014
Facebook: http://www.facebook.com/iufro2014
TEAKNET Bulletin
TEAKNET brings out a quarterly electronic newsletter (TEAKNET Bulletin) through its website. It is intended for circulation among the members of TEAKNET and other stakeholders around the globe. The Bulletin welcomes short articles, research results of non-technical nature etc. from researchers, teak growers and traders for inclusion as news items. To subscribe the online TEAKNET Newsletter, enter your email below.
TEAKNET/IUFRO Partner Event in the APFC Meeting
TEAKNET/ IUFRO Partner Event in the
27th Session of Asia Pacific Forestry Commission (APFC)
25 October 2017, Colombo, Sri Lanka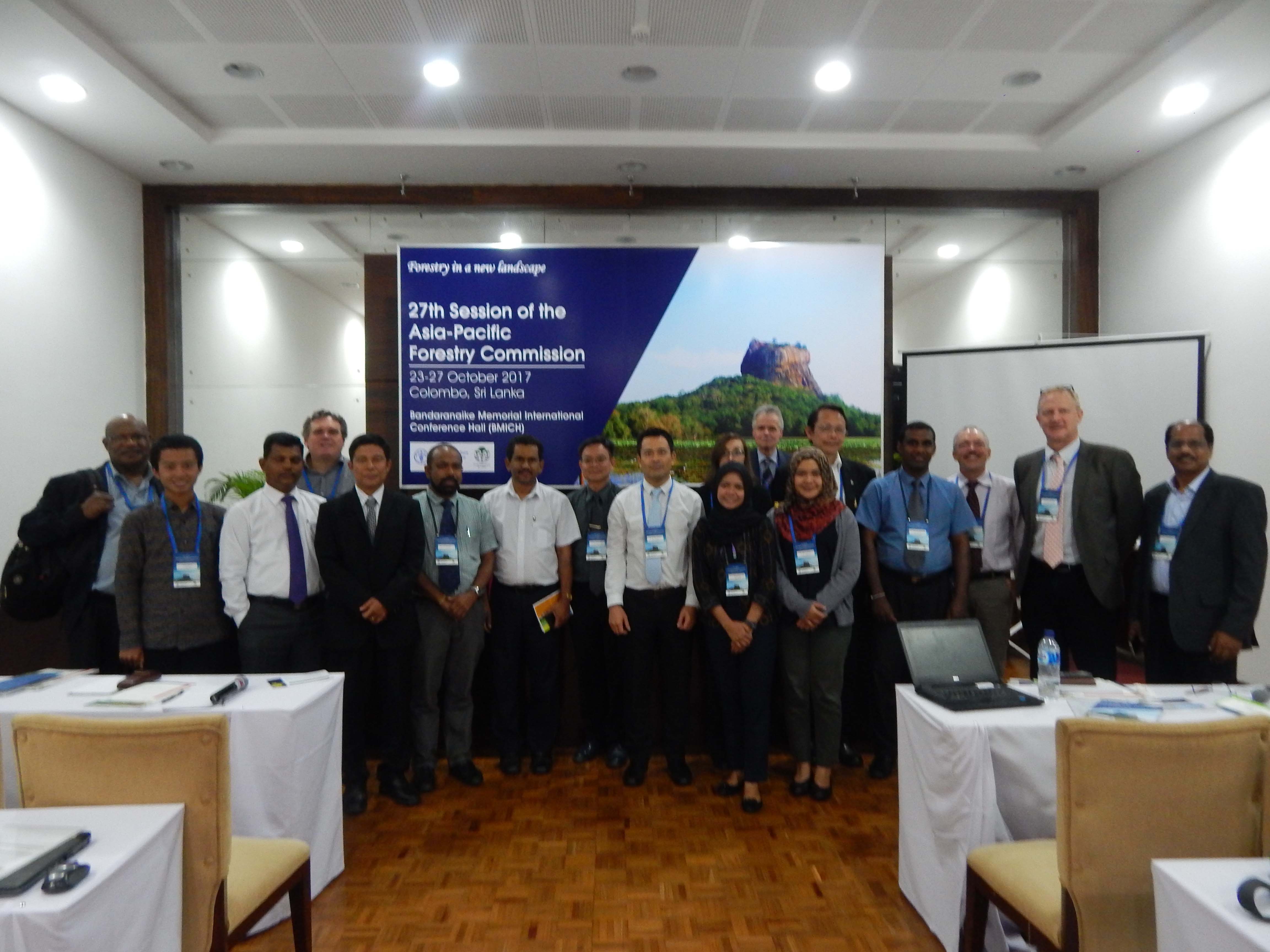 TEAKNET and IUFRO Teakwood Working Party (Div 5.06.02) successfully conducted the Partner Event on "Teak in Productive Landscapes: An Introduction to Global Efforts for the Conservation and Sustainable Management of Teak Resources" during the 27th APFC meeting on 25 October 2017.
TEAKNET in association with IUFRO set up an Exhibition booth at the APFC meeting venue at Bandaranaike Memorial International Conference Hall (BMICH) from 23 to 27 October during the days of Commission meeting for greater visibility, interaction and communication with forestry community at large.
TEAKNET Directory Online Form
We are updating our TEAKNET Directory of Traders, Planters, Government Officials and Researchers in order to effectively link all the stakeholders across the globe and share information and events related to teak.