World Teak Conference 2015, 11-16 May 2015, Guayaquil, Ecuador
The 3rd World Teak Conference 2015 with the theme " Strengthening Global Teak Resources and Markets for Sustainable Development" is going to be held in Guayaquil, Ecuador during 11-16 May 2015.
The conference is being organised by Asociación Ecuatoriana de Productores de Teca y Maderas Tropicales (ASOTECA), an association of private companies growing and exporting teak in Ecuador under the auspices of the International Teak Information Network (TEAKNET), India, Food and Agriculture Organization (FAO) of the United Nations, Rome; and the Teakwood Working Party (Div 5.06.02) of the International Union of Forest Research Organizations (IUFRO),Austria. For more information and online registration please visit:http://www.worldteakconference.com
TEAKNET Bulletin
TEAKNET brings out a quarterly electronic newsletter (TEAKNET Bulletin) through its website. It is intended for circulation among the members of TEAKNET and other stakeholders around the globe. The Bulletin welcomes short articles, research results of non-technical nature etc. from researchers, teak growers and traders for inclusion as news items. To subscribe the online TEAKNET Newsletter, enter your email below.
ITTO Project on Sustainable Teak Management for Mekong subregion
ITTO Project on Sustainable Teak Management for Mekong sub-region launched in Bangkok, Thailand
23-25 April 2019, Bangkok, Thailand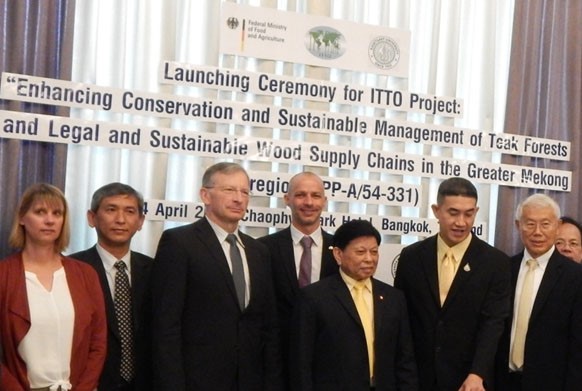 ITTO launches project on sustainable teak management in Greater Mekong Sub region. Teaknet-India is also involved in this project and being a part, Teaknet enjoys the role of information management and networking, and support the dissemination of the outreach material and short project newsletters every two months and publish it online.
The ITTO project "Enhancing the conservation and sustainable management of teak forests and legal and sustainable wood supply chains in the Greater Mekong Sub-region", is funded by the Federal Ministry of Food and Agriculture, Government of Germany. The aim of the project is to assist the five participating countries—Cambodia, the Lao People's Democratic Republic, Myanmar, Thailand and Vietnam—to conserve unique natural teak forests and their gene pools; increase incomes for forest communities and smallholders; improve wood processing and marketing; and enhance regional collaboration and cooperation in teak management.
For more details please click here
TEAKNET Directory Online Form
We are updating our TEAKNET Directory of Traders, Planters, Government Officials and Researchers in order to effectively link all the stakeholders across the globe and share information and events related to teak.