Useful Downloads
Worldwide translocation of teak - origin of landraces and present genetic base

Teak (Tectona grandis Linn. f.) is one of the major plantation timbers of the world. The species is native to India, Myanmar, Thailand and Laos in South East Asia but was translocated to several countries in Africa and Central and South America during the past century. Today, large areas of plantations are grown outside the species native range. It is speculated that genetic bottlenecks and founder effects combined with new selection pressures under new growing conditions have led to the formation of distinct landraces; this hypothesis is supported by results from international provenance tests. In the present study, we apply genetic markers to identify the likely origin of teak grown outside its native range and examine if the landraces show signs of reduced genetic diversity. We find large variation in the level of diversity among landraces, although not larger than that observed among native populations.
FAO. 2015. Global teak trade in the aftermath of Myanmar's log export ban by Kollert, W. & Walotek, P.J. Planted Forests and Trees Working Paper FP/49/E. Rome, Italy. Myanmar is a teak heavyweight, playing a significant role in the global teak trade. It has the largest area of natural teak forests (almost 50 percent of 29 million ha globally) and is the number one producer of teak logs in the world. Its natural forests produce about a quarter of the globally reported teak log supply, including good-quality teak that sells at comparatively high prices. In the observed period, the prices of quality teak logs from Myanmar and plantation teak logs from Africa and Latin America showed an upward trend of 3–4.5 percent a year on average. However, the markets and prices for these products are fundamentally different.
The aim of this study is to select "Plus Trees" based on dendrometric characteristics and wood properties in teak plantations in Benin and Togo. For this purpose, growth performance was assessed in 569 trees in 5 forests in Togo and 90 trees in 3 forests in Benin, based on diameter at breast height, total height and bole height measurements. Wood properties – density, percentage of heartwood and colour – were also measured for the final selection of Plus trees. This study enables to determine the main performances of teak in different forests reserves in Togo and Benin. The next step will be the multiplication of these 25 Plus trees. Improved performance of plantations will be secured by these new genetic resources for the reforestation activities in Togo and Benin.
Teak (Tectona grandis L.f.) is an important species in the worldwide quality tropical hardwood sector, whichhas gained significance in Central America since the first large plantations were established in the 1980s. The present work is a descriptive study that aims to: (1) analyse and characterise the general soil patterns which may be influencing teak plantations in Central America; (2) assess differences between countries and sub-regions; (3) create a global framework to help contextualise the soil fertility analyses conducted at sub-regional or farm level, and (4) determine the main problems associated with soil fertility in the region.
Serval markets spread all over the country have been identified for collection of data relating to prices of Teak, Sal, Eucalyptus… of timber and bamboos. Each Institute of the Indian Council of Forestry Research and Education has been assigned the task of collecting information for adjoining identified markets.
This paper reports on the main teak stands currently existing in Tanzania, based on information obtained directly on the sites visited throughout the country and also gathered from published accounts.
TEAKNET Bulletin
TEAKNET brings out a quarterly electronic newsletter (TEAKNET Bulletin) through its website. It is intended for circulation among the members of TEAKNET and other stakeholders around the globe. The Bulletin welcomes short articles, research results of non-technical nature etc. from researchers, teak growers and traders for inclusion as news items. To subscribe the online TEAKNET Newsletter, enter your email below.
ITTO Project on Sustainable Teak Management for Mekong subregion
ITTO Project on Sustainable Teak Management for Mekong sub-region launched in Bangkok, Thailand
23-25 April 2019, Bangkok, Thailand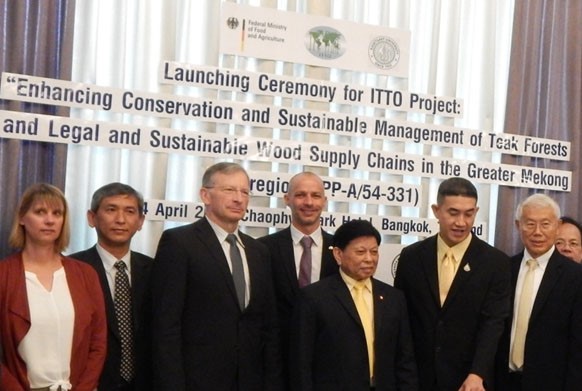 ITTO launches project on sustainable teak management in Greater Mekong Sub region. Teaknet-India is also involved in this project and being a part, Teaknet enjoys the role of information management and networking, and support the dissemination of the outreach material and short project newsletters every two months and publish it online.
The ITTO project "Enhancing the conservation and sustainable management of teak forests and legal and sustainable wood supply chains in the Greater Mekong Sub-region", is funded by the Federal Ministry of Food and Agriculture, Government of Germany. The aim of the project is to assist the five participating countries—Cambodia, the Lao People's Democratic Republic, Myanmar, Thailand and Vietnam—to conserve unique natural teak forests and their gene pools; increase incomes for forest communities and smallholders; improve wood processing and marketing; and enhance regional collaboration and cooperation in teak management.
For more details please click here
TEAKNET Directory Online Form
We are updating our TEAKNET Directory of Traders, Planters, Government Officials and Researchers in order to effectively link all the stakeholders across the globe and share information and events related to teak.