3rd World Teak Conference 2015, 11-15 May 2015, Guayaquil, Ecuador
The 3rd World Teak Conference 2015 with the theme "Strengthening Global Teak Resources and Markets for Sustainable Development" was held in Guayaquil, Ecuador during 11-15 May 2015. The Conference was attended by 341 registered participants from 35 countries representing 5 continents, to share knowledge and experience and to exchange ideas on the multiple economic, social and environmental benefits that teak resources can provide. The participants represented government institutions, the private sector, universities, research institutes, international and non-governmental organizations. A detailed report and Abstracts of the conference can be downloaded.
ORAL PRESENTATIONS:
Session I: Economics, Investments, Markets and Trade
Session II: Genetics, Tree Improvement, Silviculture & Wood Quality
Session III: Management Models for Different Value Chains, including Small Holder
Forestry
Session IV: Teak Plantation Management & Environmental Protection
TEAKNET Bulletin
TEAKNET brings out a quarterly electronic newsletter (TEAKNET Bulletin) through its website. It is intended for circulation among the members of TEAKNET and other stakeholders around the globe. The Bulletin welcomes short articles, research results of non-technical nature etc. from researchers, teak growers and traders for inclusion as news items. To subscribe the online TEAKNET Newsletter, enter your email below.
TEAKNET Partner Event in the 4th ICPF 2018
TEAKNET Partner Event in the
4th International Congress on Planted Forests
23-27 October 2018, Beijing, China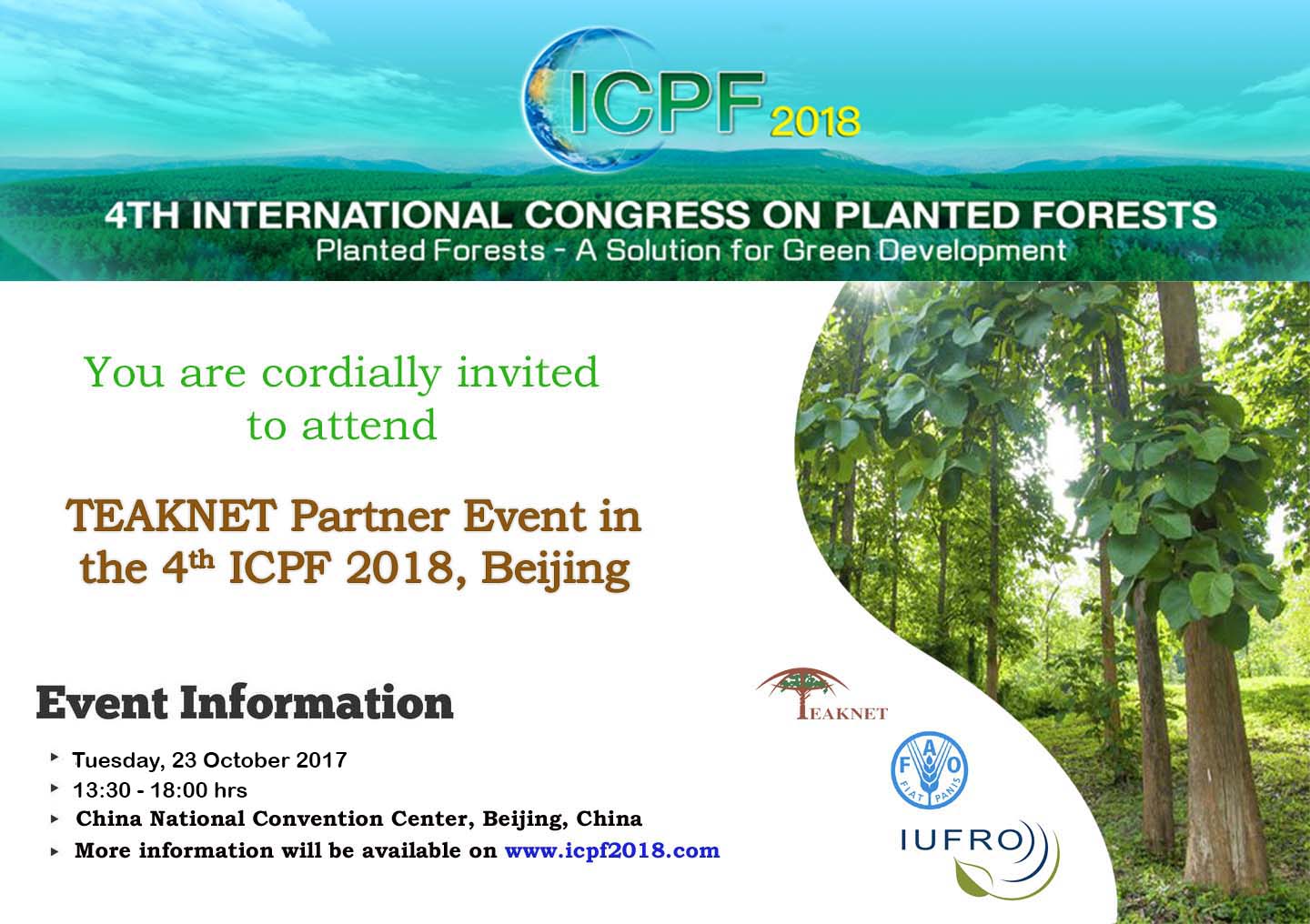 TEAKNET will be participating and organizing a Partner Event during the 4th International Congress on Planted Forests with the support of FAO and IUFRO Teakwood Working Party (Div.5.06.2). Teaknet Event is in Session A-01 entitled 'Mainstreaming high-quality timber production from planted teak forests and efforts for conservation of teak genetic resources'.
A detailed programme schedule is given below and we invite all the delegates to attend our Event.
TEAKNET Directory Online Form
We are updating our TEAKNET Directory of Traders, Planters, Government Officials and Researchers in order to effectively link all the stakeholders across the globe and share information and events related to teak.